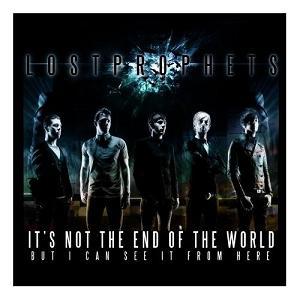 Dlouhé tři roky čekají fanoušci ostrovní party Lostprophets na to, až jejich modly přispěchají s novým materiálem. Dnešním dnem jsou mu zase o něco blíž. Kapela oznámila, že novinka vyjde v lednu 2010 pod názvem "The Betrayed" a obsahovat bude deset songů.
Natáčení se hodně protáhlo, album mělo vyjít už v létě tohoto roku, ale někdy to prostě nevyjde, leden už má být definitivní.
Dodejme, že 27. června 2006 vydali Lostprophets své doposud poslední album "Liberation Transmission" u vydavatelství Columbia (v USA).
Prvním singlem se stala skladba "It's Not The End Of The World But I Can see it From Here", média to zkrátili jednoduše na "It's Not The End Of The World". poslechnout si jej můžete
ZDE
.
Tato skladba vyšla oficiálně až 12.října, ale klip k této novince koluje na netu už nyní a konec světa v něm skutečně nastal.
na klip se můžete podívat zde:
oficiální stránka: http://www.lostprophets.com/

Katus
| 10/11/2009 01:04 PM
tak ale nezni to vubec spatne...ale ze si panove dali na cas, jen co je pravda...tak sem zvedava na zbytek :)